I am going to make a fun announcement today.
Guys & Girls, I am today's Featured Blogger in SITS!
Yay!
Those of you who would like to know what SITS is- start by clicking
this
link. It is a nice website I visit
[almost]
daily- for new finds, tips or new blogs to read… if you would like to be a Featured Blogger one day-
here
is where you will find the rules and the form too.
Go on! Get going now!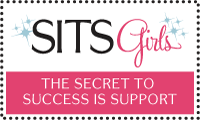 It's fun already!
In other news- there is likely to be a lot of visitors at my blog today and I'm guessing
(hoping?)
that this post will have many comments while the blog is in spotlight... and I, too, hope to find some new blogs to follow and read!
So- while you are here, my new visitors
and old
[you didn't think I'll forget you- did you?]
, please make yourselves at home.
I'm absolutely glad to have you all in my space!
Cheers!